Hoe begin je weer na maanden afwezigheid? Door te kijken op blogs, lezen op forums en ideetjes op te doen. En dan opeens....heb je er weer zin in. Een sofa maken in de stijl van Léa Frisoni dat leek me wel wat. Dus op haar site de workshop gehaald en gisteren zat ik opeens weer tussen het karton, de Tacky glue en de Gesso! De sofa moest bijpassend zijn bij de eerder gemaakte stoeltjes maar dit keer heb ik precies gedaan zoals Lea, dus met karton gewerkt in plaats van met hout.
How to start after months of absence By looking at blogs, reading on forums, gathering ideas and suddenly...feeling a burst of energy and wanting to create something. This time a sofa in the style of Léa Frisoni so I followed a workshop she placed on her site. Suddenly I found myself in the midst of cardboard, Tacky glue and Gesso! I wanted to make a sofa matching the earlier made chairs but this time I didn't use wood, but cardboard.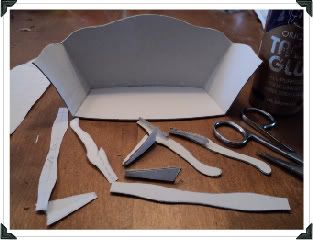 Het stoeltje en het begin van de sofa gebroederlijk naast elkaar
.
Op de achtergrond het stofje waarmee de sofa bekleed zal worden, precies dezelfde kleuren als de stoeltjes
We go together; chair and sofa. On the background the fabric for the upholstery of the sofa, matching the covering of the chairs
Daarna de sofa versieren met touw en applicaties.
Decorating the sofa with rope and tiny roses.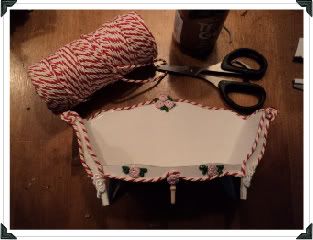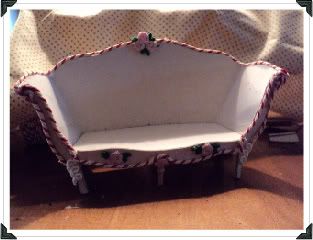 Van gekleurd weer naar wit met Gesso
From coloured back to white with a layer of Gesso
Inmiddels was het al te laat geworden maar ik was niet te stoppen. Diep in de nacht geverfd, accenten aangebracht en de bekleding afgemaakt, daarna lekker naar bed. Vanochtend een foto gemaakt van het uiteindelijke resultaat. Tadaaaaaaaaa!!
It was getting later and later but I was unstoppable. Very late that night I finished the painting, aging and the upholstery after which I rolled into bed. I made this picture this morning to show you the final result. Tadaaaaaaaaaa!!!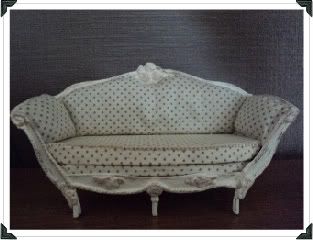 Het is fijn weer terug te zijn!
It's great to be back!