Stoeltje hier, stoeltje daar en in dat hoekje kan er ook nog wel een. Ik weet niet wat het is, maar ik heb iets met stoelen. Geweldig vind ik ze, het liefst zet ik ze overal neer. Binnenkort begin ik aan de huiskamer van Shabby Chic Petite en natuurlijk moeten daar komen...ja...je raadt het al...stoelen.
A chair here, a chair there, a chair everywhere. I don't know why but I'm addicted to chairs, I put them everywhere. Since I'm going to start working on the living room of Shabby Chic Petite soon, I just had to make...take a guess...yep...chairs!
In het boek van Léa Frisoni 'Le grand livre de la maison miniature ' staan van die prachtige stoelen. Ik moest het natuurlijk ook proberen. Trouwens, als je het boek niet hebt, de workshop voor dit stoeltje staat ook op haar site
In the book 'Le grande livre de la maison miniature' from Léa Frisoni there are tutorials how to make the most beautiful chairs you ever saw. Well...I gave it a try. By the way, if you don't have the book, the tutorial is also available on her site
http://creeretrealiser.oldiblog.com/?page=articles&rub=247714
Het grote verschil is dat Léa haar stoeltjes maakt uit karton, ik heb triplex gebruikt.
A big difference is that Léa made her chairs from cardboard, I made them from plywood.
Allereerst de patroontjes uit papier knippen.
First cut the templates out of paper.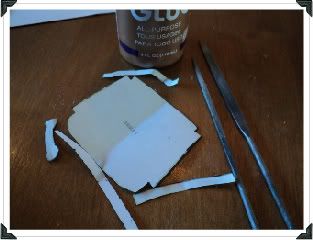 Daarna de onderdelen uit triplex zagen en lijmen met Tacky glue.
Cutting the parts out plywood and fixing with Tacky glue.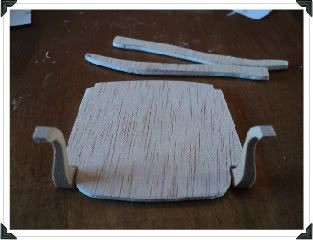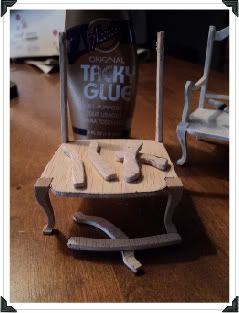 Daarna beschilderen, eerst met beits, daarna met acrylverf.
Then staining and painting with acrylic paint.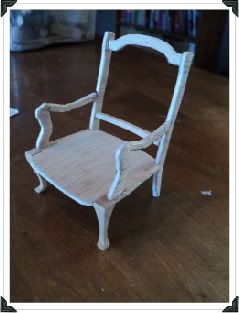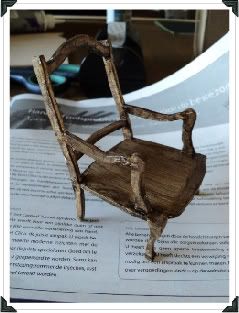 Na het stoeltje een wat verweerder en gebruikte look te geven de kussens gemaakt.
After giving the chair an aged and used look I made the upholstery.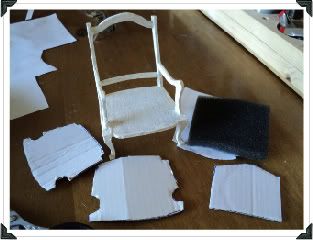 Steeds weer passen en meten.
Continually measuring and adjusting.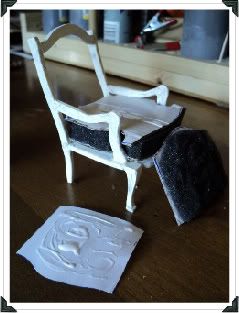 Ik vind dit zo'n mooi stofje, er staan een Franse tekst op.
I love this fabric it has a French text printed on it.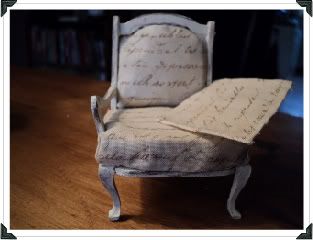 De boel goed laten drogen.
Allowing everyting to dry.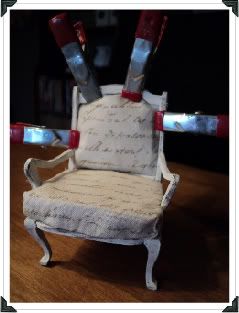 Ik heb al twee stoeltjes klaar, nog maar 8746 te gaan. Grapje!!! Twee is meer dan genoeg voor de woonkamer.
I made two chairs already, only 8746 more to go. Just kidding!!! Two is enough more then enough for the living room.