Het ligt vast aan het weer of aan de temperatuur of aan de hardnekkige mist of aan het te felle zonlicht later op de dag. Of nee...het ligt aan m'n lineaal of aan het snijmes of misschien wel aan het soort karton. Misschien komt het door de vochtigheidsgraad in huis of misschien juist omdat de verwarming weer aan staat. Wie weet ligt het aan dat ik zoveel in één keer wil doen of eigenlijk moet plannen. Of ligt het aan het feit dat het vandaag is en niet gisteren of morgen? NEE...het ligt niet aan MIJ!!!
Kijk nou wat er gebeurde vanochtend; ik was de kartonnen voorzetmuren aan het snijden voor de woonkamer van Shabby Chic Petite. Het paste niet, en daarna weer niet en nog een keer niet. De achterwand bleef maar te klein, te scheef of te groot....
It's because of the weather or the temperature or the fog or the bright sunlight later on today. Maybe it's my ruler or my cutter or maybe the kind of cardboard I'm using. Who knows, maybe it's the humidity level in the house or because I've turned on the central heating. Or is it because I want to do so many things all at once and should be planning things better. Could it be it's because it's today and not yesterday or tomorrow. And NO!! It's not because of ME!!
Look what happened this morning; I was cutting the walls for the living room of Shabby Chic Petite out of cardboard. The wall in the back just wouldn't fit, it was to big, to small, to high or totally crooked.
*Diepe zucht / Huge sigh*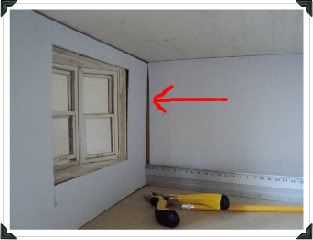 Ik na de 4e poging / Me after the 4th try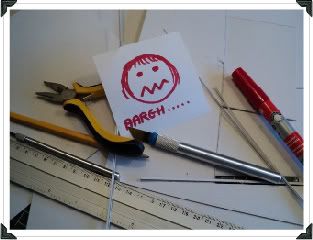 En nu...het past! / And now...it fits!
Nu ik erover nadenk, het was gewoon een kwestie van een kopje koffie te weinig :o)
Coming to think of it maybe it was just a tiny lack of coffee :o)