I've joined another blog http://poppenhuiskladblogger.blogspot.com/ and since that one is merely in Dutch I'll be using English here. I haven't been blogging much lately but that doesn't mean I haven't been busy. I'll show you what I've been up to the following days.
To my big surprise so many of you have entered the give-away...I'm stunned. What a great response! Tomorrow is the big day and I'm really wondering where the goodies will go to...maybe the gift has to travel across oceans, mountains and borders to get to it's destination!
Guess what? Already over 300 followers, I'll soon be having another give-away!!!!! Any suggestions on what you'd like to win are welcome!
Well...spring is in the air, the temperature is climbing slowly, we're turning off the central heating and we all have days of lingering in the sunshine on our minds. The perfect setting to create the following; a coalbox in miniature :o)
I made a box out of balsa wood with a removable lid at the front. After covering it with Gesso I painted it greyish and gave it a more used look.
Here you see the basic box:
I made tiny coal scoops out of the tinfoil of waxine light cups
After attaching a hook on the side of the box from which the scoop can hang, a knob on the front of the lid and a handle on top this is how the coalbox looks
The box is filled with tiny stones resembling coal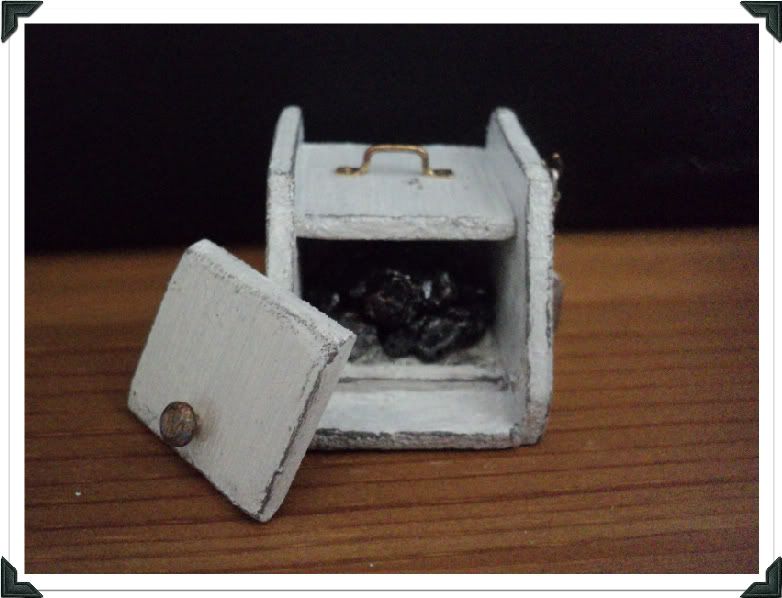 The living room is getting cozier and cozier...
See you all tomorrow, I can hardly wait!