Plantjes om je heen schept sfeer, de natuur een stukje naar binnen halen willen we allemaal. Met de lente in aantocht ben ik bezig met het maken van plantjes en bloemetjes. Hier heb ik een net gekochte pons uitgeprobeerd om een varen in elkaar te zetten.
Het groene papier heb ik eerst beschilderd met verschillende kleuren groen en bruine acrylverf om nuances te krijgen. Daarna ponsen en ponsen...
It's always a great feeling having plants around it brings a small part of nature into the home. With spring coming I decided to make some miniature plants and flowers. I really wanted to try out this new punch I purchased and make a fern. First of all I painted the paper I wanted to use in different shades of green and a little brown acrylic paint. After which i punched out the leaves...
Ik vond een enkel geponst blaadje wat ielig dus ik besloot twee blaadjes op elkaar te plakken met een stukje bloemendraad ertussen. Ik zorgde ervoor dat de blaadjes een beetje versprongen zodat het een vol blad werd.
To obtain full leaves I decided to glue two punches on top of eachother with a piece of floral wire in between. I made sure to place the top leaf a little under the bottom one so the gaps were all filled.
Voor een lekker vol plantje maakte ik zo'n 18 varenblaadjes. Ik knipte af en toe een blaadje wat bij zodat ik niet allemaal dezelfde kreeg.
For one fern I made 18 leaves, I trimmed some of them to get different shapes of leaves. A real fern has small and big leaves too!
De blaadjes op elkaar plakken
Varenblaadjes staan te drogen / Fern leaves drying
Het lijkt wel een jungle hier.
It's becoming a jungle out here.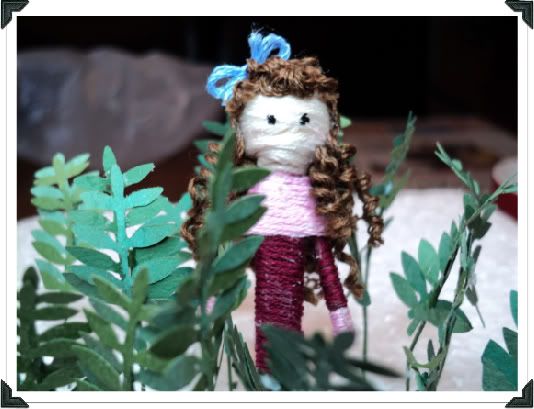 Daarna wat lijm in een plantenpotje smeren en daar wat zelfdrogende klei in doen. De bovenkant besmeren met wat lijm en aandrukken in droge gemalen koffie. Dit lijkt prima op tuinaarde. Daarna de takjes erin prikken en de blaadjes een beetje naar beneden ombuigen.
Take a flowerpot of your liking and glue some self drying clay into it. Cover the top of the clay with some glue and press into grounded coffee. This looks exaclty like garden soil. Then stick the stems into the clay and curl the leaves downwards.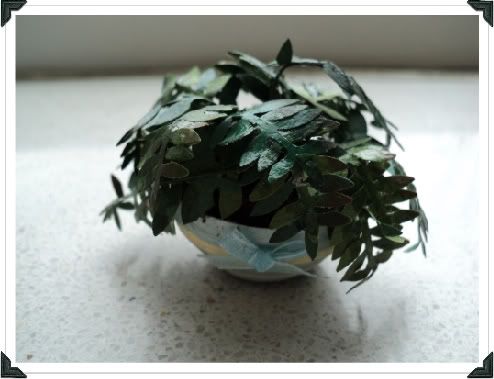 Zoals iedereen volg ik hier op de voet het nieuws over Japan, een aardbeving gevolgd door een tsunami en de verschrikkelijke gevolgen daarvan. Ook ik denk aan de mensen daar en ik kan me nauwelijks voorstellen hoe de totale ontreddering en verdriet zal zijn. In gedachten verzonken...de berichtgeving op tv spookt door m'n hoofd. Hier zijn geen woorden voor...
Like probably everyone in the world I also follow the news of the disaster in Japan, the earthquake, the tsunami and the terrible aftermath. My thoughts are with the ones that have to endure so much. I can't find words for it...