Heb je dat ook wel eens dat je een gat in de lucht kan springen omdat mensen je zo blij maken?
Don't you sometimes just want to jump for joy because people make you happy?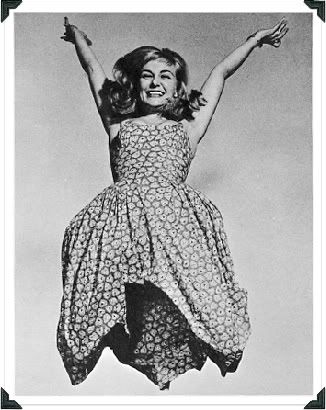 Ten eerste jullie allemaal bedankt voor het volgen en de lieve berichtjes op het blog. Wat een prachtig welkom terug.
First a big thank you to all of you for following my blog and leaving such sweet comments here. It surely was a warm welcome back.
Ik ben druk bezig geweest, voldoende om een paar berichtjes op het blog te zetten. Maar met het volgende werd ik wel heel blij. Ik had een pakketje gekocht bij
http://www.nalladris.com/
voor een kroonluchter. Ik had al eerder een kit bij deze webshop gekocht en het beviel me prima dus ik begon met veel plezier.
I've been real busy the last week so here's an update on what's been going on here. I purchased a kit for a chandelier at http://www.nalladris.com/. Since I've bought her kits before and was very pleased with them I started of with excitment to get this project done.
Eerst maar een alle prachtige Swarovski kralen en onderdeeltjes in aparte bakjes doen zodat het geheel wat overzichtelijker wordt en daarna de beschrijving nauwkeurig volgen. Ik was lekker op weg, totdat...
After sorting the beautiful Swarovski beads and findings neatly I started following the instructions carefully. This was great fun, until...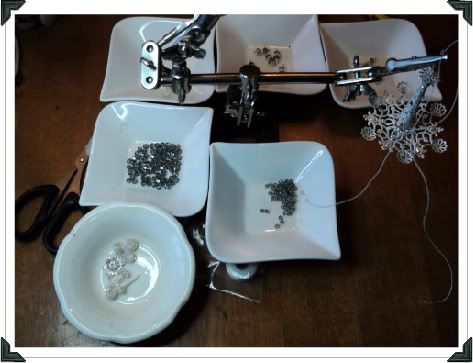 ... er tot mijn grote schrik één van de gesoldeerde bakjes van de basis afbrak. Een ramp, want ik kreeg met geen mogelijkheid het bakje weer terug op het ornament. Ik probeerde alle soorten lijm die ik in huis had uit maar zonder succes. Wat nu?
...to my horror one of the soldered caps broke off from the base. A true disaster because no matter what glue I used I was unable to put the parts back together again. What to do?
Ik stuurde een mailtje aan Sun (eigenares van de webshop) met de vraag of zij het onderdeel ook apart kon leveren. Ze stuurde gelijk antwoord terug dat ze wel iets kon regelen. En wat dacht je? De volgende dag bracht de postbode een nieuw exemplaar en dat alles zonder extra kosten! Daar word je toch ongelooflijk blij van, wat een service zeg!
I decided to email Sun (she owns the webshop) and asked if there was a possibility to obtain the part separately. She answered immediately that she could arrange something. To my big surprise the next day the mailman brought me the package with a replacement. And all of that without additinal charge! Now...isn't that something that just makes a person happy? What service!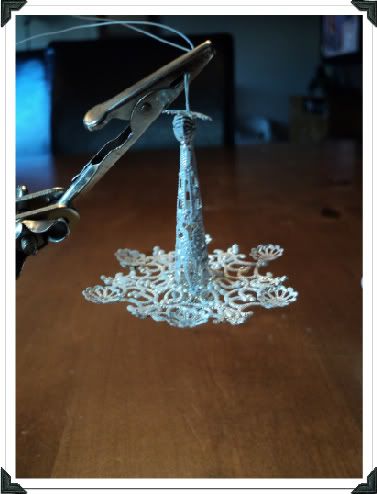 Hoera, de basis klaar (met nieuw ornamentje) en alles in de Gesso.
Hooray, the base is finished and covered with a coat of Gesso.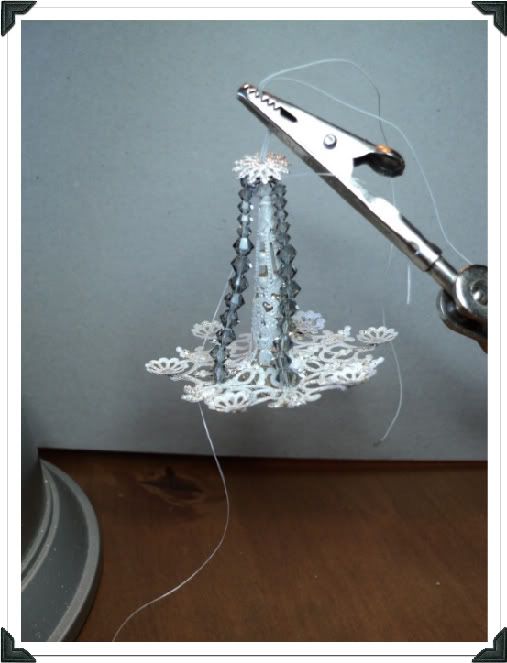 Geduldig kraaltjes rijgen en vastmaken.
Carefully threading beads and attaching to the base.
Ik ben een prachtige kroonluchter rijker.
I'm the proud owner of a beautiful chandelier.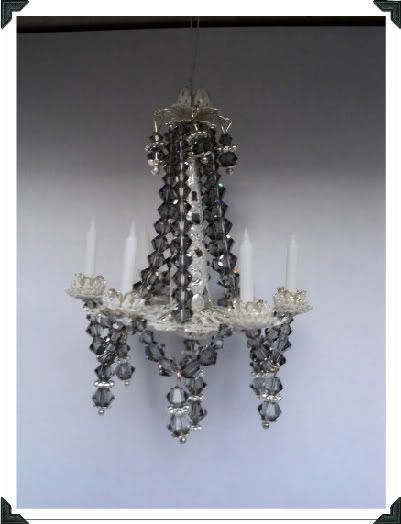 Jammer dat je de glinstering niet zo goed kan vastleggen op de foto. De Swarovski kristallen heb ik in het grijs besteld en dat maakt de lamp nog aparter. Trouwens, hij werkt echt!
I'm unable to catch the glitter of the Swarovksi crystals on a picture but I assure you it's amazing. I ordered grey crystals which make the chandelier even more special. By the way...the light really works!
Ik spring een gaat in de lucht hier!
Still jumping for joy here!