Wat kom je toch een leuke workshops tegen in blogland. Kijk deze nou! Het is niet echt een poppenhuis miniatuur maar het maken van een poppetje met tandenstokers. Ik was gelijk verkocht en moest het uitproberen.
There are so many great tutorials in the blog world. Look at this one! Not really a dollhouse miniature but it's a doll made out of toothpicks. I just HAD to try it out myself.
Hier is de link/Here's the link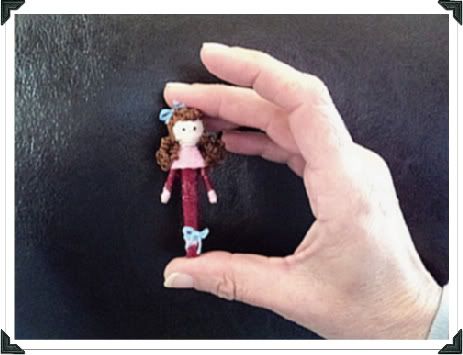 Het is een workshop in het engels maar goed te volgen met veel foto's. Een schattig cadeautje maken voor jezelf is toch het beste wat er is? Terwijl ik ermee bezig was had ik het volgende liedje in m'n hoofd uit de jaren 50, vraag me niet waarom, ik was toen nog niet eens geboren. Dus even opgezocht op youtube en zowaar kon ik het terug vinden.
The way the instructions are written in this tutorial is just so funny. Make sure you read through al the different steps, it'll bring a smile to your face! Whilst making this cute doll a song stuck into my mind and I was humming it all the time. I searched for it on youtube and was even able to find it it's a dutch song from the 50's! I wasn't even born then, how hilarious is that?
De naam voor mijn gelukspoppetje is natuurlijk Sophietje! Dank je wel Johnny Lion!
The song is called 'Sophietje' the performer is Jonny Lion. Ofcourse I named my little doll Sophietje.
Kijk...hier is ze. Niet de allermooiste van de wereld maar zoals Angela al zegt in haar uitleg...je eerste poppetje nooit weggooien. Die is en blijft speciaal.
Here she is! Not the prettiest doll I ever saw but as Angela says in her tutorial...treasure your first doll because it special.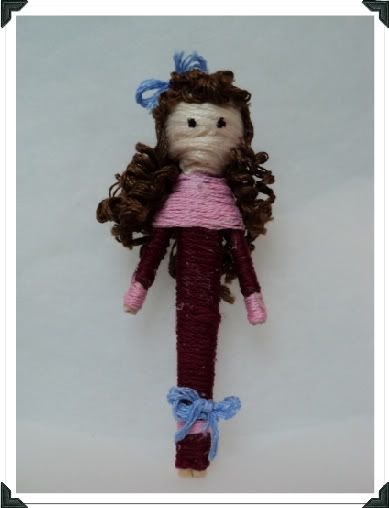 En nu zit Sophietje dagelijks mee te kijken naar het miniatuurgebeuren en bewaakt mijn koffiemok. Wie weet volgen er nog wel een paar poppetje, het was vreselijk leuk om te maken.
Sophietje keeps me company daily now, watching the miniatures I make and guarding my coffee mug. I'm almost certain she'll have some friends soon, those toothpick dolls are such fun to make!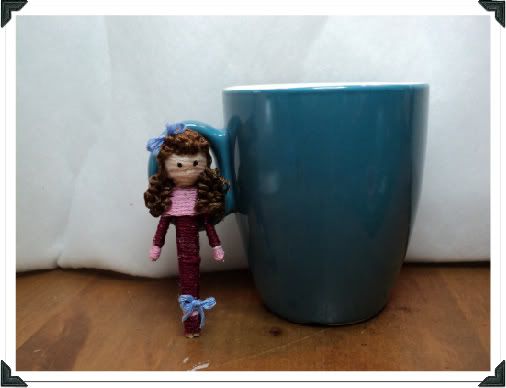 Dank je wel Angela Michelle en Johnny Lion ook namens Sophietje!
Thank you Angela Michelle ad Johnny Lion, also on behalf of Sophietje!