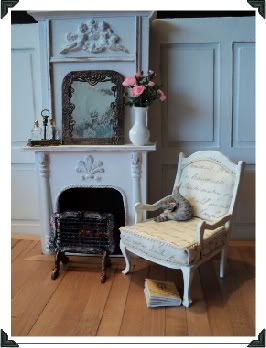 Van de buurvrouw had ik een open haard gekregen wat hoorde bij het Del Prado poppenhuis bouwpakket. Jammer dat ik er geen foto van gemaakt heb, dit is de enige die ik kon vinden waar het oorspronkelijke model op staat.
My neighbor gave me an open fire place that belonged to a Del Prado dollhouse kit. To bad I forgot to make a picture of it, this is the only one I found where you can see the original.
De open haard is versierd met halve pilaren, karton, touw, sierlatjes, uitgeknipte figuurtjes uit behang en een gekocht ornamentje van engeltjes. Daarna heb ik een laag Gesso erover heen gesmeerd. Op de foto's van de eerder gemaakte sofa is deze techniek te zien. De schoorsteenmantel is beplakt met plakplastic met een marmeren patroon.
The open fire place is decorated with pilars that I cut in half, cardboard, rope, decorative strips, cut out figures from wallpaper and a bought ornament with angels. After that I covered everything with Gesso. You can see this technic if you take a glance at the pictures of the earlier made sofa. I covered the mantelpiece with adhesive plastic with a marmble pattern.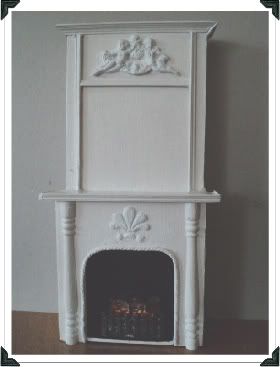 Pilars, rope and cut out figures from wallpaper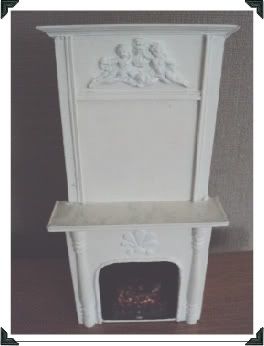 Angels in top and marble mantelpiece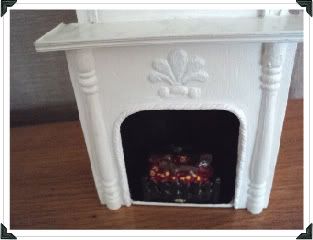 In het volgende bericht leg ik uit hoe ik het haardscherm en de spiegel heb gemaakt. Blijf kijken! :o)
The next post will be about making the fireplace screen and the mirror. Don't go away! :o)