Naast de kits van The Craftpack Company
http://www.thecraftpackcompany.co.uk/
vind ik de kits van Susan Gutheridge
http://www.miniaturekits.co.uk/
ook geweldig. Vreemd dat ik zo op de Engelse kits val, maar misschien komt het omdat ze juist die sfeer weergeven waar ik zo gek op ben. Dus bij Miniature Kits een heel aantal kits besteld om de vakantieperiode lekker door te kunnen knutselen. Maar...het zijn er bij elkaar wel erg veel geworden, ik knip, plak en verf me suf! Tja, soms kan je wat overenthousiast worden van al het moois wat je ziet.
I adore the kits from The Craftpack Company and from Susan Gutheridge. Somehow they can capture exactly the mood i'm searching for. I ordered lots of kits to do during the holidays. I'm afraid I got a little bit to enthusiastic, I'm cutting, folding, pasting and painting
like a maniac.
Dit is nog te maken: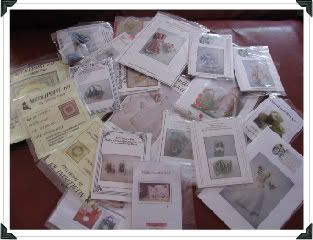 Een schattig naaimandje:
A cute sewing basket: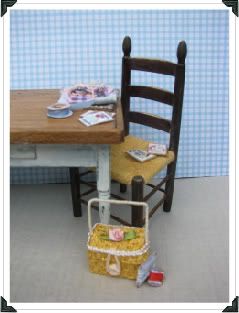 Een mandje met tuinspulletjes
A basket with utilities for in the garden: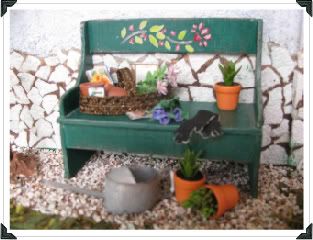 En nog wat miniaturen die al klaar waren:
And some miniatures I already finished:
Conclusie: heel veel kleine spulletjes maar nog geen plek om alles neer te zetten. En hoe bewaar je alles dan? Precies, je stopt alles in een doos. Het is elke keer weer leuk om daar iets uit te halen een een definitief plekje te geven in het poppenhuis.
Conclusion: lots and lots of little stuff but no place to put them yet. How to keep them...well...put everything in a box ofcourse. It's always fun to be able to take something out and give it a final spot in the dollhouse.