Toevallig liep ik tegen deze blokjes met 36 velletjes vintage papier aan. Er waren drie verschillende dus ik heb ze gelijk allemaal gekocht. De kosten waren er niet naar...per blokje was ik 99 eurocent kwijt!
By chance I stumbled upon these cute creative sheets, each pad contains 36 of them. There were three different pads so I decided to buy all of them. It was a true bargain for only 99 eurocents per pad!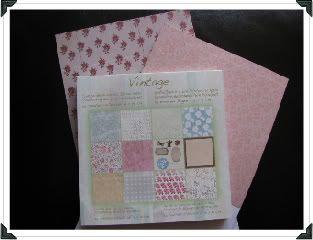 Vanmorgen heb ik zitten spelen met papier en al gauw zag m'n werkblad er zo uit.
This morning I played with paper and soon my worktop looked like this.