Het bed is klaar, ik heb geprobeerd hier ook een shabby chic tintje aan te geven. De quilt is mijn eerste poging en ik ben best tevreden met het resultaat.
The bed is finished, I've tried to keep it into the shabby chic style. The quilt is my first attempt, I'm rather pleased with the result.
Het is al laat dus de foto's worden donker. Ik heb alles verplaatst naar de eettafel en alle lampen erbij gesleepd die ik kon vinden. Even kijken of het nu beter te zien is.
It's getting late that's why the pictures are so dark. I've moved everything to the diningtable and collected all the lamps I could find. Let's see if I get a better result.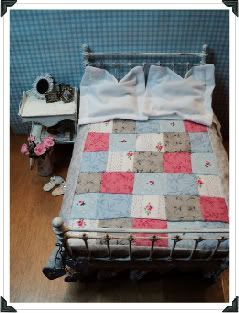 Ja hoor, de quilt is beter te zien, nu nog even kijken of ik de zijkant van het bed kan laten zien.
Yes, a much better view of the quilt, now let's see if I can show you the side of the bed.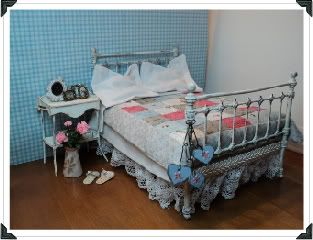 Hoera! Gelukt! Misschien voortaan toch maar de foto's maken bij daglicht. Ik kon alleen niet wachten om het even snel te laten zien.
Yes, done! Maybe next time I better make those pictures by daylight. I just HAD to show you, I'm sometimes so impatient.