Vanmiddag kwam de postbode met een schattig pakketje voor me, zo leuk ingepakt in lichtblauw papier met witte sterretjes! Hij feliciteerde me omdat hij dacht dat het mijn verjaardag was (grote grijns).
This afternoon the mailman brought a present to my doorstep, it was wrapped so pretty in lightblue paper with white stars. The mailman congratulated me because he thought it was my birthday! Looking at the stamps I noticed the package came from Sweden. YES! It was the give-away I won from Lena
Wat een berg postzegels zeg! Ik heb eerst de fotocamera gepakt om jullie mee te kunnen laten genieten. En toen voorzichtig uitpakken.
There were loads of stamps on the package. First I grabbed my camera so I could give you the opp0rtunity to enjoy the unwrapping too.
Het eerste wat ik zag was een schattig kaartje met een boodschap van Lena. Ze hoopt dat ik de cadeautjes leuk vind en ik er een mooi plekje voor kan vinden. Nou....zeker weten!!
The first thing I saw was this cute card from Lena, she hopes I would like the give-way and I would find a good place for it. No worries...I certainly will!!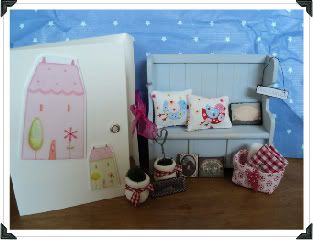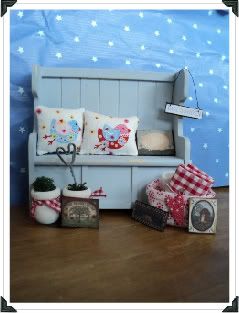 Hier zijn ze dan, de prachtige miniaturen gemaakt door Lena. Echt te mooi om waar te zijn, wat heeft Lena een talent! In het echt zijn ze nog veel mooier dan ik met m'n camera kan vastleggen.
Here they are, the beautiful miniatures Lena made, she sure has talent! In real they're even more splendid then my camera can catch on picture.
Het bankje kan zelfs open! De kussentjes zijn perfect en de potjes zo schattig
The bench even opens! Perfect little cushions and wonderful pots.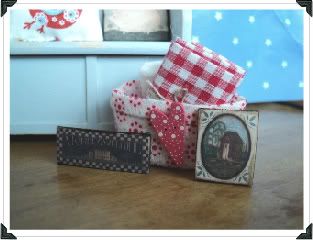 Is het niet prachtig? Op de achtergrond het papier waarin het pakketje verpakt zat.
Isn't it gorgeous? On the background you can see the paper the package was wrapped in.
Wat een prachtige dag! Het lijkt echt wel mijn verjaardag, de postbode had toch een beetje gelijk.
What a great day! It almost seems like my birthday, I guess the mailman was right after all.