Hoera!!!!! Het is echt waar.....100 volgers, dat is een feestje waard! Wat geweldig dat er zoveel mensen geïnteresseerd zijn in mijn blog. Omdat ik give-aways zo vreselijk leuk vind, wil ik deze mijlpaal vieren door zelf ook iets weg te geven!
Hooray!!! It's really true...100 followers! Time for a party! It's so wonderful so many of you are interested in my blog. Because I like give-aways so much I'd love to celebrate this milestone by giving away something myself.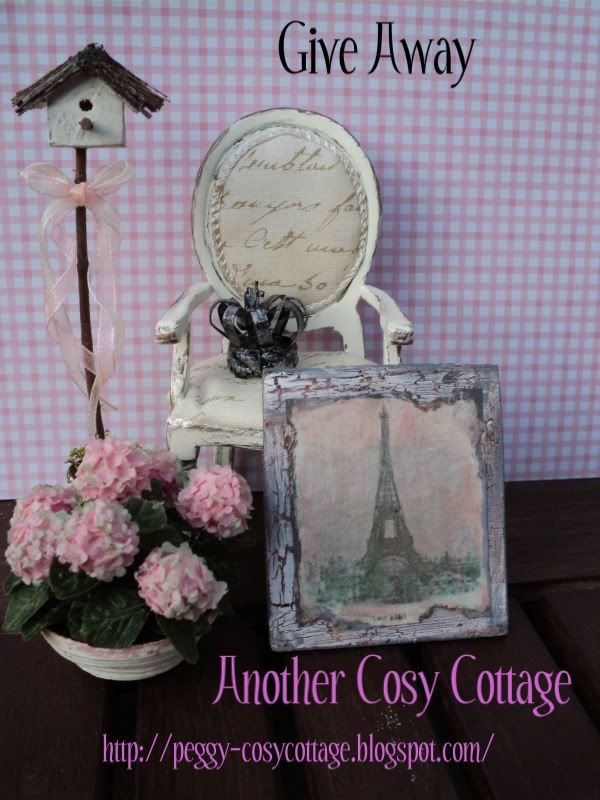 'Oh la la...Paris'
(stoeltje, bak met hortensias, schilderijtje, kroontje en vogelhuisje; allemaal zelfgemaakt)
(chair, pot with hydrangea, painting, crown and birdhouse; all homemade)
Hoe kan je dit winnen / How to win this give-away:
Wees volger van m'n blog/

Be a follower of my blog

Schrijf een reactie onder dit bericht zodat ik weet dat je mee wilt doen / Write a comment beneath this post to let me know you want to participate
De einddatum voor het meedingen is 10-10-10 (bijzondere datum toch?) / The final date to enter is 10 -10-10 (what a great date, don't you agree?)
Ik zou het fijn vinden als je een link naar m'n give-away zou zetten op je blog, maar dat is niet verplicht.
I'd like it very much if you'd put a link to my give-away on your blog, although it's not required.
Allemaal heel erg bedankt voor het volgen van m'n blog!
Thank you all so much for following my blog
!