Ben druk bezig met de slaapkamer, het bed, het vloerkleedje en een memobord zijn al klaar. Tijd dus om aan de inrichting te beginnen, te starten met de plaatsing van de muren. Dit volgens het vertrouwde concept; eerst muren van mdf en daarna kartonnen muren er los tegenaan. Dat was dus weer meten, nog eens meten en voor de zekerheid een keertje extra meten, daarna knippen en verven.
Been busy the last couple of days with the bedroom; the bed, the carpet and memory board were done. Time to start the design of the bedroom, to begin I needed to place the walls. According to the familiar concept I made the walls from mdf and placed lose cardboard walls in front of them. It was time to measure, measure and measure again, after which I cut and painted them.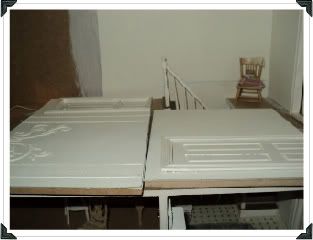 De trap vanuit de hal wilde ik uit laten komen op een halletje met een deur naar de slaapkamer. De muur waar het bed gaat komen is versierd met ornamenten. En kijk...in het hoekje: dat schattige stoeltje wat ik gekocht heb. Ja ja...hier wordt druk geklust.
At the top of the stairs coming from the hall I wanted to create a little hallway with a door to the bedroom. The wall where the bed will be placed is decorated with ornaments. In the corner you can see the little chair I bought earlier. Lots of DIY is taking place!
Toen even de meubels er in gezet. De kast tegen de zijwand ben ik nog druk mee bezig. En in het hoekje wat ontstaan is gereserveerd voor een klein toilettafeltje met stoeltje neerzetten.
I placed the furniture to see how it would look. The cabinet on the right side is not finished yet. In the little corner in the back is reserved for a little dressing table with chair.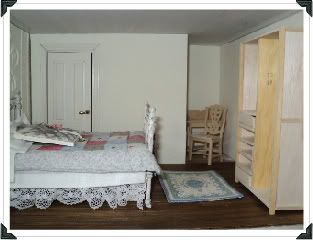 Het resultaat bekijkend, viel me op dat het hoekje achteraan zo donker was. Natuurlijk kan ik er een lampje ophangen maar zou het niet veel leuker zijn daar nog een raampje te plaatsen? Tja, toen sloeg de twijfel toe en ben opnieuw gaan bedenken hoe ik dat voor elkaar krijg. We doen het gewoon nog een keer....wordt vervolgd!
Looking at the result i noticed the little corner in the back was so dark. Ofcourse i could hang a lamp but wouldn't it be much nicer to place a window there? So many choices and decisions! Back to the drawing board...to be continued!