Het was een verrassing hoe er gereageerd werd op de give-away. Wat een belangstelling opeens, je word er gewoon een beetje verlegen van. Welkom aan iedereen die m'n blog is gaan volgen, meer dan 150 al!! Het wordt alweer bijna tijd voor een nieuw cadeautje dus dat wordt nog even iets bedenken en maken!
The reaction on the give-away was a huge suprise for me. So many of you are interested in it, it's almost overwhelming. Welcome to everyone who decided to follow my blog. Already more then 150, isn't that just absolutely great?! It's almost time for another gift so I better think of something and create it soon!
Over cadeautjes gesproken; ik heb voor het eerst 'geswapt'. Ik heb iemand ontmoet op het poppenhuisforum en het klikte, na wat mailtjes over en weer hebben we afgesproken een swapje voor elkaar te maken. Vreselijk spannend, zou ze wat ik had gemaakt wel leuk vinden en wat zou ik zelf krijgen? Hier is de envelop van Charissa vol met verrassingen
Talking about gifts, I have done a swap for the first time. I met someone on dollhouseforum and we had a 'click', after emailing eachother we agreed we would swap. What an exciting time; would she like what I made for her and what would I recieve in return? Here is the envelope full of surprises Charissa sent me.
Prachtig ingepakt met een heel lief kaartje en met toegangskaarten voor Slagharen Ponypark voor het gezin.
Beautifully wrapped with a sweet card and tickets to an amusement park for the whole family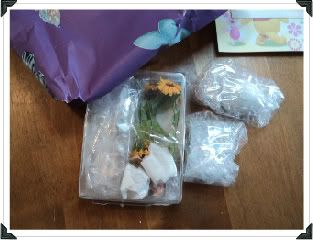 Daarna de poppenhuis miniaturen, alles goed verpakt. Mijn lievelingsbloemen zag ik al; zonnebloemen!
Then the packages with dollhouse miniatures, everything well packed. I could already see my favorite flowers; sunflowers!
Prachtige zonnebloemen in een witte vaas.
Gorgeous sunflowers in a pretty vase.
Twee chique kandelaars met kaarsen
Two elegant candlesticks with candles
Een zilveren dienblaadje, een schattig boekje en een kopje met natuurlijk koffie (!) en een piepklein lepeltje.
A silver tray, a cute booklet and cup with ofcourse coffee (!) and tiny spoon.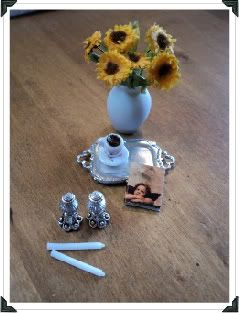 Alles krijgt een prachtig plekje in het poppenhuis. Dank je wel Charissa!!
I'm so happy with these gifts, thank you so much Charissa!!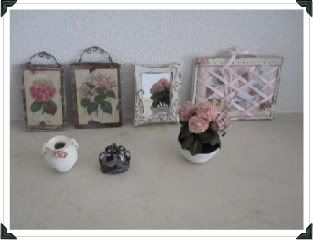 Twee schilderijtjes, een spiegel, memorybord, vaas, kroontje en hortensias.
Two paintings, a mirror, memoryboard, vase, crown and hydrangeas.
Conclusie: swappen is vreselijk leuk!
Conclusion: I love to swap!