Af en toe vraag ik me af of het wel zo leuk is om steeds allerlei vorderingen hier te laten zien, het staat zo...ehm...protserig. Maar aan de andere kant, ik kijk elke dag wel in blogs van anderen en haal daar vreselijk veel inspiratie uit. Dus toch maar doen dan. Het ander hoekje van de slaapkamer is namelijk klaar. Het stoeltje is geverfd en opnieuw bekleed, de console is gemaakt naar een voorbeeld uit het boek van Léa Frisoni "La grande livre de la maison miniature". Wie in poppenhuisland kent het niet, zo'n prachtig boek en het scheelt dat ik Frans kan spreken en lezen. Het tafeltje is wel ietwat wiebelig en krom maar omdat het één van de eerste zelfgemaakte meubeltjes is, heeft het een apart plekje in m'n hart.
Sometimes I wonder if I should post every achievement on the dollhouse, it feels like I'm showing off. But on the other hand, I look into your blogs every day and they're a source of inspiration. That said, I'll show you some more, the other side of the bedroom is finished.
The chair has been painted refurbished and the console was made by an example out of the book 'La grande livre du maison miniature" written by Léa Frison. I believe everyone in the dollhouseworld knows this book by now, it's amazing. The little table is a bit wobbly and crooked but since it was one of my first attempts on miniature furniture it has a special place in my heart.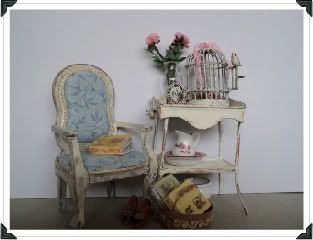 Een gepimpt vogelooitje/ A pimped birdcage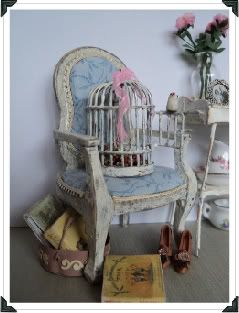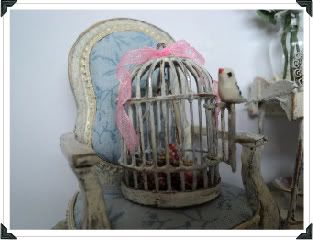 Deze boekjes heb ik een tijdje geleden al gemaakt, met echte bladzijden met plaatjes en tekst.
These books I made a while ago, with real pages with pictures and text.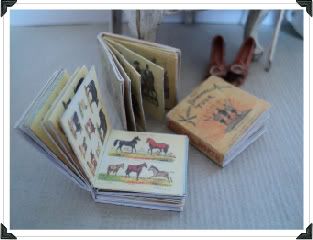 Zo ziet de linkerkant van de slaapkamer er nu uit.
This is the way the left side of the bedroom looks at the moment.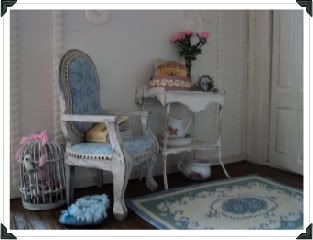 Zo even een van de kinderen naar de peuterspeelzaal brengen, even boodschappen doen en spaghettisaus maken. En tussendoor moet er gewoon even tijd te vinden zijn om weer verder te kunnen met m'n hobby, oh oh....ik geloof dat ik verslaafd bent!
I'm off to bring one of the kids to kindergarten, do some groceries and make a spaghettisauce. In between there must be a little time left to spend on my hobby, uh oh....I believe I'm addicted!