Het was zo'n simpel idee, een donker hoekje waar wat meer licht moest komen en dus een raampje plaatsen. Eerst maar eens kijken wat voor een raam. Omdat ik in de hoek een toilettafel met spiegel had gepland was een groot raam geen optie, het werd uiteindelijk dus een klein halfrond raampje en hoog tegen het plafond geplaatst.
Eerst meten waar een gat gezaagd moest worden, zagen, raampje passen, verven en daarna erin plakken.
Het lukte wonderbaarlijk goed, ik had verwacht dat het alsnog zagen van een gat wel wat problemen zou opleveren aangezien de buitenkant van het huis al klaar is. Maar gelukkig viel het allemaal reuze mee.
It was such a simple idea, wanting more light in a dark corner and therefor placing another window. First the choice of the window, I already planned a vanity table in that corner with a mirror so the window had to be small. I finally chose a half round window. After measuring where the hole should be, sawing, adjusting and painting I was able to glue the window in place.
It went rather well, I expected lots of problems cutting holes in the outer wall that I'd already finished but so far so good.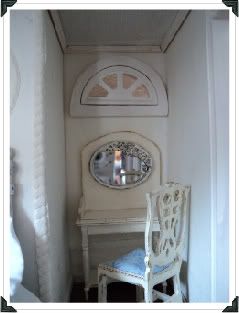 Het raampje was geslaagd maar toen vond ik een andere indeling van de meubels toch mooier. Het bed tegen de achterwand kwam veel mooier uit. Maar op die muur zaten geen ornamenten...kortom...'s avonds laat de muur versierd, geverfd en laten drogen. Vanmorgen kon het bed op de juiste plek gezet worden.
Gelijk maar de plinten en de plafondlijsten geplaatst.
Looking at the result I decided I didn't like the original placing of the furniture after all. The bed would look much better in front of the other wall. But there were no ornaments there, so...late at night...I decorated that wall, painted it and left it to dry. This morning I placed the bed and was happy with the result.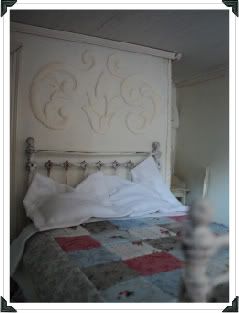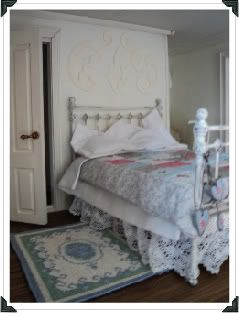 Ben nu druk bezig met het verder aankleden van de kamer. De toilettafel is al gemaakt, geschilderd en al voorzien van accenten, ook de bijpassende stoel is al bekleed. Het memobord en het franse tafeltje ervoor hebben ook een plekje. Je ziet, het plaatsen van een raampje kan soms leiden tot een totale nieuwe indeling van een kamer.
At the moment I'm decorating the room. The vanity table and matching chair are done, painted and all. The memory board and the little french console found their place. As you can see...the placing of a window sometimes turns into a total change of a room.