Alhoewel ik een tijdje niets van me liet horen, zat ik niet stil in het poppenhuisgebeuren. Wat is het toch leuk om de puntjes op de i te zetten en de details aan te brengen. Dat maakt een kamer echt af. Als eerste de toilettafel aangekleed en van de memoryboards de meest passende gekozen.
Although I haven't posted lately it doesn't mean I wasn't busy with the miniature world. What fun it is to put the final details in a dollhouse setting. First I dressed up the vanity table with lots of nicknacks and I chose the memoryboard which I thought fitted the room the best.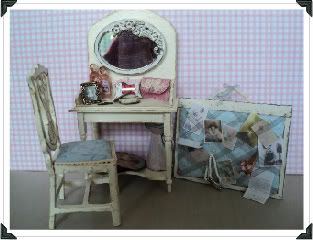 De accessoires iets dichterbij; onder andere een toilettasje, parfumflesjes, peederdoosje en een geurdoosje met rozenblaadjes.
A closer look at the accessories including a toilet bag, perfume bottles, powder box and a scent box with rose petals.
Hier hoe het er uiteindelijk uitziet;
The final result;
Ik zal een klein geheimpje verklappen; ik ben bezig met wat nieuwe miniatuurtjes die ik nog niet op het blog kan zetten. Waarom? Omdat ze voor een swapje zijn en het moet natuurlijk wel een verrassing blijven.
I'll let you in on a little secret. I've been making some new miniatures but I can't show them yet on this blog. Why you might ask? Well...they're for a swap, and I don't want to spoil the surprise!
Trouwens...zal het al tijd worden voor een give-away? Alweer 85 volgers. Joepie!! Welkom allemaal, wat een eer dat jullie m'n blog volgen.
By the way...is it time for a give-away already? There's an amazing total of 85 followers!! This makes me so happy, welcome everyone. I'm honoured you're following my blog!