Regelmatig surf ik op het web, me verbazend over de prachtige poppenhuis miniaturen die anderen in staat zijn te maken.
Een foto van een brood met daarin piepkleine muisjes stal gelijk mijn hart, wat prachtig zeg! Dus ben ik op zoek gegaan naar wie er achter dit prachtige kunstwerkje zat en of ik dat zou kunnen kopen.
I'm often on the internet, admiring other peoples miniatures and dollhouses. A picture of a loaf of bread with little mice caught my attention, it was so cute! After searching i found out who made this beautiful miniature and that i was able to purchase it.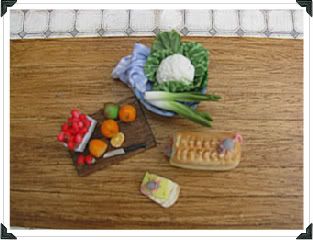 Ik kon m'n geluk dan ook niet toen bleek dat Annet haar prachtige creaties ook verkoopt. Niet alleen de muisjes, maar ook allerlei groenten, fruit, complete maaltijden...allemaal in fimoklei en ongelooflijk gedetailleerd.
De doorgesneden meloen heeft zaadjes die over de rand op de tafel vallen. De aardbeitjes hebben echte piepkleine kroontjes, het kapot gevallen ei heeft 'echte' eierschalen....
Annet makes the most beautiful tiny food displays, they're made so detailed it's amazing. I bought several pieces of her work: just look at the melon with tiny seeds dripping on the table, the strawberries, the broken egg... How cute are they?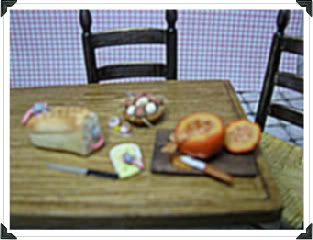 De foto's die ik maak met m'n cameraatje zijn jammer genoeg niet zo mooi, de details kan je niet goed zien. Op haar site kan je haar miniaturen beter bekijken:
I was unable to capture all the beauty with my camera. Annet has a site where you can see much better pictures:
http://annettesminimarket.punt.nl/
Klik het foto-album aan in de linker kolom en je wordt verwezen naar haar 'winkeltje'.
Click on 'foto-album' and you'll get redirected to her shop.
I
k had in ieder geval een waslijst van wensen.
Zoveel dat we afgesproken hebben er twee pakketjes van te maken.
Het eerste gedeelte heb ik al ontvangen en ik was verrast door het resultaat.
Zo enthousiast en superblij dat ik een mailtje schreef naar Annet om haar te bedanken. Wel een beetje dom dat ik haar in mijn enthousiasme aansprak als Janny! (nogmaals excuses daarvoor ANNET!!)
I had a huge wishlist so we agreed to have them send to me in two packages. The first one has arrived and i was surprised by the result. I was so enthusiastic I wrote her an email to thank her.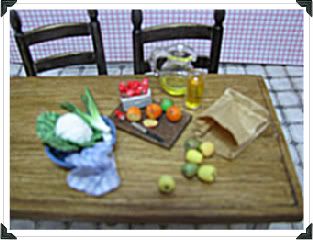 Ik ben benieuwd naar het tweede pakketje, zalig om al die kadootjes uit te pakken. Alles krijgt een mooi plekje in de provisiekast en op de keukentafel.
Mijn grote favoriet blijft de vreselijk leuke muisjes, ze zijn zo in detail gemaakt dat je je eigen ogen niet gelooft. Ik hoop stiekempjes dat ze zich vermeerderen, een muizenval zal ik zeker niet zetten.
I'm looking forward to recieve that second package. My absolute favorite is the bread with mice in it. I secretly wish for them to multiply, i won't set a mousetrap for sure!