Joepie! Post uit Engeland, daar waren ze dan, de bestelde kits van de Craft Pack. Ik ben gek op deze kits, ze zijn zo compleet met goede beschrijving en prima materialen. Dit weekend dus volop aan miniatuur kleding gewerkt.
Yes! Mail from the UK and there they were..the kits I ordered at The Craft Pack. I love these kits, they are so complete, with clear instructions and great materials. This weekend i've been making miniature clothes.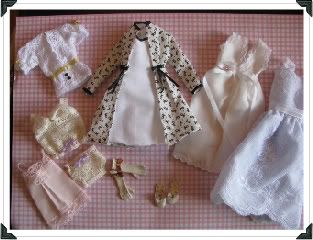 I
k raakte erdoor zo enthousiast dat ik ook eigen ontwerpjes ging maken met restjes stof. Het zwart-witte jasje met wit jurkje is er een voorbeeld van.
Ik ben nog lang niet klaar met alle kits. Ik wissel het grote werk in het poppenhuis af met af en toe een klein miniatuurtje, lekker voor de afwisseling.
I even made some of my own designs with leftover scraps of cloth like the black-white coat with the white dress underneath. I still have loads of kits to go. I like to switch from larger building work to making little miniatures, just for variation.
Er moet wel een gigantische kledingkast in Shabby Chic Petite gemaakt worden om alles in op te kunnen bergen. En weet je wat heel bijzonder is? Ik heb nog steeds geen bewoonster gevonden...ben nog naarstig op zoek naar juist dat poppetje wat zich helemaal thuis zal voelen in het huis. Dus, heb je suggesties waar ik haar kan vinden, graag!
The bedroom needs a huge wardrobe closet to be able to put everything inside. Want to know something funny? I haven't found an habitant for this house yet. All suggestions to where i can find her are welcome!