De eerste ruimte in Shabby Chic Petite die onderhanden wordt genomen, is de keuken.
Ik heb op karton de maten van de muren overgenomen en ben ze daarna gaan opbouwen met verschillende diktes karton. Hierdoor kreeg ik nisjes en kastjes die ik later kon vullen.
Het fornuis en de spoelbak zijn gekocht, dus dat waren de uitgangspunten voor de verdere uitbouw.
The first room of Shabby Chic Petite I tackled was the kitchen. I made templates out of cardboard and started building depth with different sizes of cardboard. This way I was able to create cupboards and niches. The sink and cooker are bought and were starting points for further construction.
Na veel tekenen, rekenen, knippen, snijden en plakken zien de kale muren er zo uit:
After much drawing, calculating and cutting the bare walls look like this:
Dit is de kant waar het fornuis komt, daarboven een grote schouw, de kast ernaast is lekker diep en wordt uiteindelijk de voorraadkast.
De muren zijn eerst met Gesso behandeld en daarna beschilderd met eierschaalwit acrylverf. Voor de onderkant van de muren heb ik groene en gebroken witte verf gemengd tot ik een poederkleur lichtgroen kreeg.
This is the wall where the cooker is going to be placed, above a large hood, de cupboard next to it turned out rather profound and is suitable as pantry.
I primed the walls with Gesso and painted them with egg-shell white acrylic paint. For the lower part of the walls is mixed green and white paint untill I got this softgreen colour.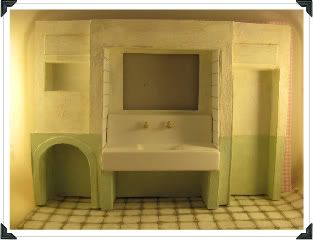 De zijkant van de keuken, hier de opening waar het raam geplaatst zal worden. Tegen de zijkant van de muurtjes van de spoelbak zijn kleine tegeltjes geplakt.
The side of the kitchen where the sink will be placed underneath the window. The sides above the sink are covered with little tiles.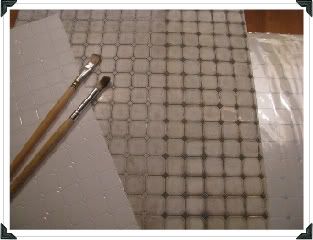 De tegelvloer is trouwens ook beschilderd. Ik had een vel tegeltjes van kunstof gekocht maar die vond ik toch te wit en te glimmend. Dus de plaat geschuurd en daarna de voegen tussen de tegeltjes met grijstinten opnieuw opgevuld.
I bought a sheet of tiles to put on the floor but found the colour to white and shining on second view. I sanded the sheet and painted it with greyish colours.
Het grote voordeel van de muren afzonderlijk te maken is dat je pas op het laatst de muren terugplaatst in het poppenhuis. De muren blijven er dus 'los' instaan. De elektriciteitsnoertjes van lampjes en dergelijk kan je er mooi achter verbergen. Mocht er iets toch niet passen of niet naar het zin zijn, is de muur er zo weer uitgehaald.
By making the walls seperatly with templates I'm able to replace the walls back into the house when i'm completely satisfied with it. The walls are not glued in the house. This way I'm able to remove them whenever I want, for exemple to change something or to add electricity wires later on.
Het nadeel is dat je wel heel precies moet meten en vaak moet controleren of alles nog klopt terwijl je bezig bent met opbouwen. Het is toch wel vervelend als blijkt dat een kastdeur niet meer open kan of dat je nisjes maakt die onmogelijk te bereiken zijn voor de poppenhuisbewoners (jaja...ik spreek uit ervaring hahaha).
There's only one disadvantage working this way...you have to be real precise with measuring. Before you know it you've made niches that are impossible to reach.