De buitenkant is met snelcement ingesmeerd voor een ruw stucwerk effect, daaroverheen lichtblauwe verf. Op de onderrand zijn stukjes behang geplakt, het lijken net steentjes. De luikjes zaten niet in het pakket, die heb ik gekocht.
On the outside walls i've put quick drying plaster and painted it lightblue. On the bottom of the walls i've glued pieces of wallpaper, it resembles stones. The shutters were not included in the kit, i bought them separately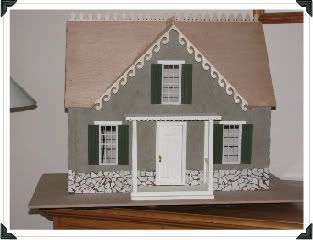 De plaat waar het huisje op staat had voldoende ruimte om een tuintje te maken; borders met planten en struiken.
The wooden plate underneath the house had enough space to make a little garden.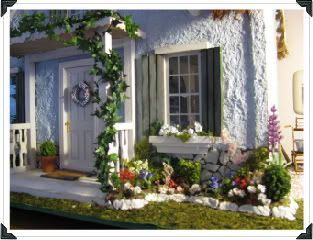 Aan de keukenkant wordt de was gedaan; de wasbok met teilen staan er nog terwijl de schone kleding aan de lijn hangt te drogen.
On the kitchen side there's room to do the laundry, the tubs are still standing there while the clean laundry is drying on the clothesline.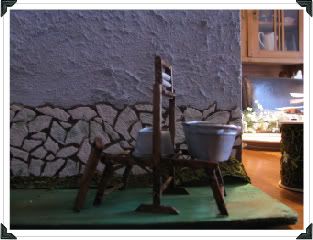 Aan de huiskamerkant staat een bankje waar je genieten kan in de schaduw van de bloeiende boom. Hier staat ook het houthok, de bijl ligt klaar om nieuw brandhout te kappen.
On the other side sits a little bench where you can enjoy the shade of a tree in bloom. You can find a woodshed here, with an axe to chop some more firewood.