Ben druk bezig met de hal van Shabby Chic Petite. In het vorige huis vond ik de trap zo'n vreselijk obstakel waar je veel ruimte door verliest. Ik heb besloten in dit huis de trap in de hal een een centrale plaats te laten innemen. Dit betekende wel dat er een kromming in moest zodat je goed de zijkant van de trap kan zien. Dat werd dus meten, rekenen, zagen en proberen. De trap kan nu tegen de achterwand geplaatst worden. De trap is wit geverfd, daarna 'oud' gemaakt en de treden zijn afgewerkt met balsahout. Als laatste een trapleuning in elkaar gezet en erop gemonteerd.
I'm busy with the entrance hall of Shabby Chic Petite. In the previous house the staircase took up so much space I decided to make the stairs in this house an eyecatcher. I altered the original stairs, painted it white, aged it with brown paint and covered the steps with balsa wood. Finally made the banister.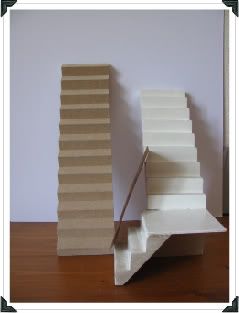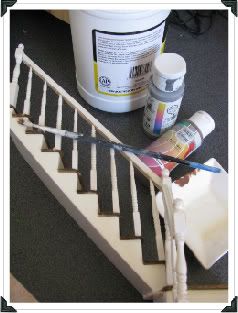 Nu de trap klaar is, heb ik de muren van de hal weer in karton uitgeknipt, deze eerst met Gesso geverfd en daarna met gebroken wit en kleurnuances van grijs en bruin.
After having done the stairs I made cardboard templates of the walls and painted them with Gesso. After drying i coloured them offwhite with nuances of grey and brown.