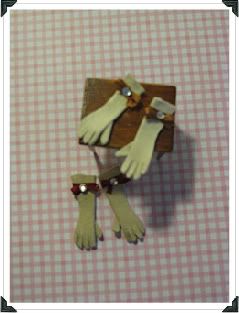 Op internet zijn verschillende beschrijvingen te vinden over hoe je handschoentjes (tuinhandschoenen, werkhandschoenen) kan maken maar niet van degene die ik zocht. Ik heb tips en trucs van anderen gecombineerd en er een eigen draai aan gegeven. Vandaar dat ik het als workshopje toevoeg aan het blog...het is een precisiewerkje met leuk resultaat.
I saw different kinds of gloves on the internet and decided to make a tutorial for them and post it here,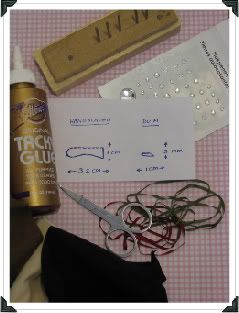 Nodig:
Dun leer/suède
Dik papier
Scherp schaartje
Tacky Glue
Lint
Strikkenhulp
You'll need:
Thin leather
Thick paper
Sharp scissors
TackyGlue
Ribbon
Bowmaker (a tool to tie bows)
Neem het patroontje over op stevig papier. Het handschoentje zelf is 3,3 cm lang en 1 cm breed. Het duimpje is 1 cm lang en 3 mm breed aan de onderkant en loopt uit in een punt.
De tekening van het handschoentje is een figuur van een vis zonder rug. Hier het patroontje vergroot:
Draw the pattern below on thick paper. The glove is 3,3 cm long and 1 cm broad. The thumb is 1 cm long and 3mm broad en is shaped pointy at the end. The drawing of the glove is that of a fish without a back. Here you can see the pattern enlarged: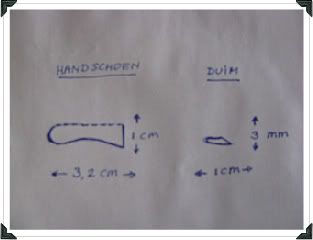 Knip uit soepel leer of suède een lapje van 8 cm lang en 4 cm breed. Ik gebruik graag oude leren handschoenen of oude portemonnee, het leer is dan lekker soepel. Vouw de zijkanten van het lapje naar het midden toe, plak de zijkanten vast met Tacky glue.
Ik smeer de Tacky Glue gelijkmatig uit met een satéprikker, hierdoor krijg je geen hobbels of bobbels in het leer.
Cut a piece of leather 8cm long and 4cm wide. I like to use old used gloves or wallet, the leather is nice and soft. Fold the edges of the leather to the middle and glue. Make sure you spread to glue evenly so you don't get bumps in the leather.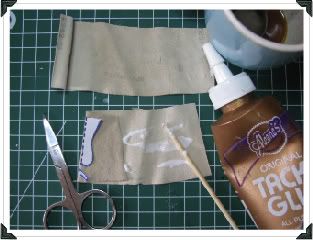 Leg het patroontje van de handschoen tegen de vouw van het geplakte lapje en knip uit, herhaal dit aan de andere kant. Knip ook de duimpjes tweemaal uit.
Put the pattern on the folded leather and cut it twice. Also cut out the thumbs twice.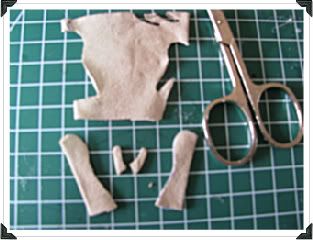 Knip de vingertjes in de handschoentjes, handig is om dit eerst even te tekenen met potlood zodat je de juiste verdeling krijgt van het aantal vingers en de dikte van de vingers. Knip de topjes voorzichtig rond.
Cut the fingers, I draw the fingers on the leather first with a soft crayon so I can determine if I get the right size. Cut the tops of the fingers round.
Plak de duimpjes op de handschoen. Voor de juiste plek zie foto.
Glue the thumbs to the gloves, for the right location see the picture below.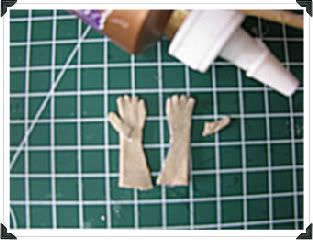 De handschoentjes omgekeerd...controleer of de duim op de juiste plek zit.
The gloves turned over...check to see if the thumbs are correctly placed.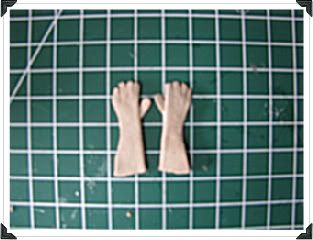 En als laatste het versieren. Ik heb hier een lintje om het handschoentje geplakt. Een strikje gemaakt met behulp van de strikkenhulp en erboven op geplakt. Als finishing touch nog een glittersteentje op het strikje. En klaar!
Finally decorate the gloves with ribbon. I made bows with a tool, the bowmaker. As finishing touch I added a tiny sprackling gem.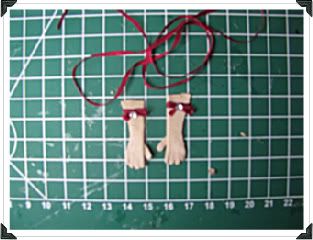 Veel plezier!
Have fun!