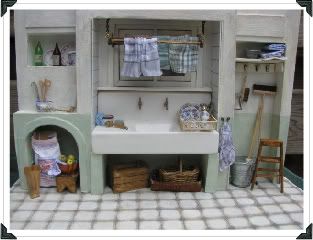 Het rechtergedeelte van de keuken wordt bepaald door de was/spoelhoek. Logisch om daar allerlei schoonmaakartikelen op te bergen. Het is nu echt zo'n zand-zeep-soda hoekje geworden. Veel details zijn zelf gemaakt, zoals het trappetje, de krat, opstapje, aardappelzak en het wasrekje boven de gootsteen.
Zelfs de kraantjes van de gootsteen zijn veranderd, ze waren goudkleurig en glimmend, niet echt passend vond ik. Dus nu zitten er zilverkleurige op die ik wat verouderd heb met verf.
On the right side wall of the kitchen I glued in the sink and put all the detergents, buckets and other cleaning utensils. Most of the miniatures are selfmade like the step, the crate, potatosack en the drying rack above the sink. I replaced the taps of the sink because they were to golden and shiny to my taste.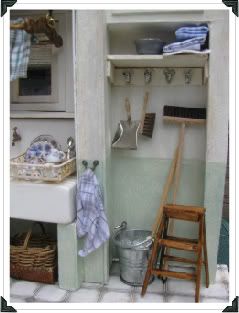 In de opbergruimte voor de schoonmaakspulletjes staat ook een emmer met daarin een mop. Ik had geen scenic water bij de hand maar kreeg een leuk effect door het emmertje te vullen met doorzichtig hobbylijm. Toen de lijm was ingedroogd waren er belletjes ontstaan waardoor het net lijkt alsof er sop in de emmer zit.
In the storage place you can also see a bucket with a mop in it. I hadn't any scenic water at hand so I filled the bucket with transparant glue. The dry glue has little bubbles in it that resembles a lot like lather.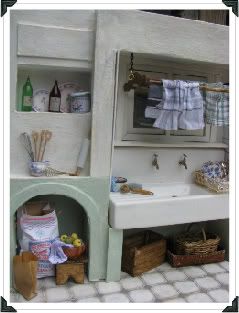 Het wasrekje hangt uiteindelijk op z'n plek, dat had wat voeten in de aarde om het recht te laten hangen. Ik heb een kettinkje van mezelf ervoor opgeofferd om de juiste kleur en schakeltjes te krijgen, goud en glimmend vond ik niets. Nu is het zwart en brocante-achtig. De was die eraan hangt is in model gebracht met spelden, daarna haarlak erover spuiten en goed laten drogen. Je krijgt dan mooi natuurlijk vallende plooien.
The drying rack took some time to hang down straight. I used one of my own necklaces to get the right colour chains. The laundry was pinned on the rack, covered in hairspray and dried. This way you achieve natural looking folds.
Nu eerst een senseootje en dan op naar de volgende muur :D
Now..first another coffee and then up to the next room.