Rara-plaatje...wat is dit nou?
What might this be?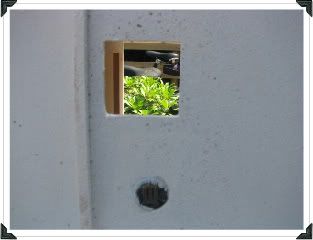 De afgelopen dagen is het stralend weer...dat vraagt om kliederen met zand en water. Maar dit keer niet op het strand. De buitenkant van Chabby Chic Petite stond er maar kaaltjes bij met alleen een laagje grondverf. Na een paar dagen bezig geweest te zijn met alle ramen, deuren en balkjes te schuren en te beitsen, was ik zo nieuwsgierig hoe het zou staan dat ik het hele gevaarte naar buiten heb gesleept.
Daar het huis eerst in een laag lak (gebroken wit) geverfd en daarna vogelzand erover gestrooid en met de hand de boel geëgaliseerd.
The last past days we had beautiful sunny weather...perfect to mess with sand and water. No, I didn't go to the beach...I decorated the outside of Chabby Chic Petite. I had been busy for several days with sanding and putting primer onto the walls, doors and window-frames. Now it was time to finish the outside of the house. I took the dollhouse outside, painted the walls and rubbed sand, which you normally use in birdcages, in the wet paint.
De foto is genomen door een raampje aan de achterkant van het poppenhuis...je ziet nog net de zadels van twee fietsen die in de tuin staan.
The picture was taken through a backside window...you're just able to make out the two seats of bikes in the garden.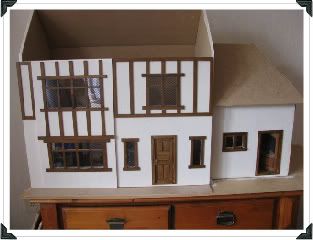 Na het drogen het losse zand er voorzichtig afgeborsteld en de ramen en balkjes erop geplakt. Ik ben tevreden over het resultaat. Alleen mogen de muren nog wel een wat meer verweerd uiterlijk krijgen, maar dat doe ik pas als ook het dak er op zit.
After the walls were dry I brushed of the excess sand en glued in the windows and beams.