Het kookgedeelte van de keuken; wat een prachtig fornuisje vind je niet? Echt metaal, dus loodzwaar en de deurtjes kunnen open.
The cooking area...what a beautiful cooker don't you think? It's made out of metal so weighs rather much and the doors can really be opened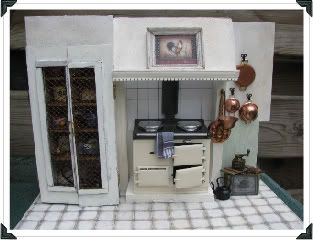 Die moest natuurlijk een prominente plaats innemen. Zelfs als je niet kan koken raakt iedereen geïmponeerd door zo'n mooi toestel. Je nodigt gewoon de gasten uit aan de keukentafel, laat ze met open mond kijken naar het fornuis en smeert zelf de boterhammen met pindakaas die je met groots gebaar serveert.
The cooker was entitled to a place in the spotlight. Even if you can't cook everybody gets impressed by such a beautiful device...just invite the guests to the table, let them admire the cooker and make some peanutbutter jelly sandwiches to serve with grand gesture.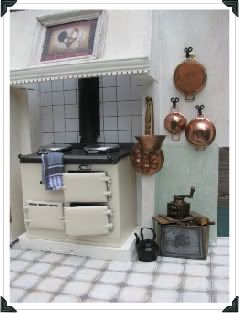 Het fornuis van nog wat dichterbij bekeken. Ernaast zie je een miniatuur koffiekistje waarvan het deksel er half op ligt, erin een maatschep en er bovenop een koffiemolen.
Dit prachtige miniatuurtje heb ik gekocht bij Artofmini.
Daar hebben ze echt de mooiste spulletjes die je ooit gezien hebt. Je moet er echter wel snel bij zijn, vaak zijn het unieke exemplaren..dus op is op.
Tot mijn grote frustratie ben ik al een paar keer te laat geweest. Maar ja...om je wekker nu te gaan zetten om iets te kunnen kopen gaat mij ook weer wat te ver.
A close view on the cooker. Beside on the floor a miniature coffeecrate with the lid partly removed, inside a scoop and a coffeegrinder on top. This marvelous miniature I bought at Art of Mini. They have splendid miniatures for sale but you have to be quick...most of them are one of a kind.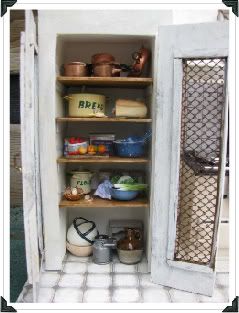 Hier zie je de voorraadkast wat beter. De deurtjes zijn gemaakt van balsahout waarin ik een rastertje heb geplakt. Nu heb je de echte ouderwetse droogkast waar vroeger levensmiddelen in werden bewaard. In deze kasten kon ook gedroogd worden, bijvoorbeeld appels. Een manier om fruit langer eetbaar te houden.
The doors of the pantry are made with balsawood and lattice. In older times these kinds of pantries were used to store and dry food.