Alle muren van de keuken zijn klaar dus kon de grote verhuizing beginnen. Alle afzonderlijke muren terugplaatsen in het poppenhuis. En het paste! Ik heb even een klein vreugdedansje gedaan.
En hier het resultaat tot nu toe:
All the walls of the kitchen are finished and ready to be put back into the house. I actually did a litte dance of joy when everything fitted in.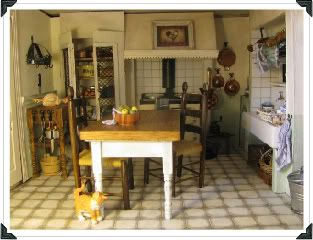 Nu alleen de afwerking nog; er komen balken tegen het plafond en de naden tussen de muren worden netjes weggewerkt met een sierlatje.
All that's left to do is the finishing touch. I still need to put beams on the ceiling and cover the sides of the walls with decorative strips.