In de keuken moest nog één muurtje gemaakt worden.
Deze kant is niet zo groot omdat daar de deur naar de hal zit. Het stukje wat overbleef is gereserveerd voor het betere hak- en snijwerk.
Only one more wall left to do for the kitchen. There was not much room left due to the door to the hallway. I decided to make a corner for chopping and cutting.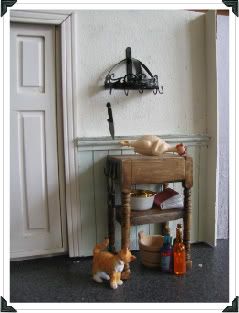 Ik heb een hakblok gemaakt en een wildkroon. Er hangen kleine mesjes aan het blok, aan de wildkroon komen nog worstjes en een ham. De kip ligt klaar om schoongemaakt te worden.
I made a chopping-block and game crown above it. Tiny knifes are hanging beside the chopping-block. I still need to hang some sausages and a ham on the game crown. The chicken is ready for chopping.